Dylan O'Regan, Process Engineer
My name is Dylan O'Regan and I work as a process engineer on the construction side of the company. I have been working in Dromone for over 2 and a half years. For my first year in Dromone my role as a process engineer was working on various continuous improvement projects, jig design and NPI projects across both the construction and agricultural sectors. The last year and a half my role in the process team has changed and I have progressed to working purely on the construction side of the business with focus on implementation of new processes, continuous improvement projects, health and safety issues, maintenance and modifications to existing jigs and also some involvement in the design of new jigging.
When the pandemic hit in 2020 I got the opportunity to work from home as I was in the high risk category, I worked from home for 6 months and returned to the office in January 2021. Since then I have been predominantly on site with the option to work from home from time to time.
Some of my highlights for 2021 include the implementation of the new processes and introducing new technologies to make the processes more efficient and controlled. Another highlight was the improvement projects on the robot for welding. One of my personal highlights of 2021 is my health which after years of surgeries and medications to treat my ulcerative colitis my most recent surgery this year has finally brought me back to full health.
Stephen Davis, Design Engineer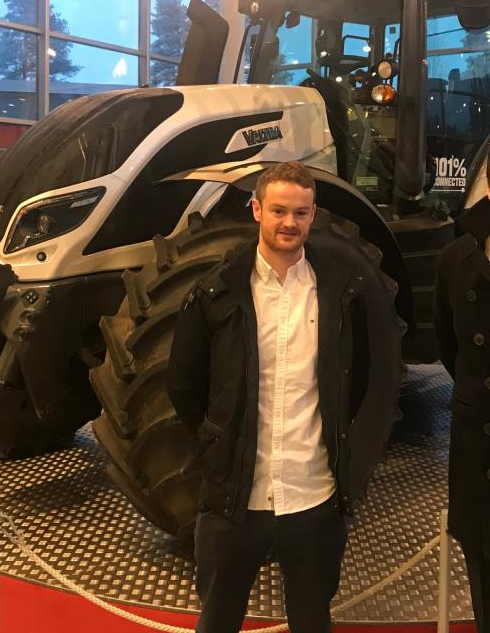 Hello, my name is Stephen Davis and I have been working in Dromone since 2016. I am a Product Design Engineer focused on the agricultural equipment side of Dromone. With ever changing restrictions and health advice, 2021 continued to challenge us to be flexible and agile in how we work. I was lucky to be able to carry on working remotely to complete my daily tasks; while also getting on site for prototype reviews and testing. I have enjoyed the hybrid working approach when the restrictions allow for regular site visits, as I find it gives a nice balance to the work week. However, I have missed travelling to our customers' facilities abroad and look forward to this in the (hopefully not too distant) future.
2021 also provided me with extra spare time than I might have had in a "normal" year, which was bitter sweet. I had more time to complete a master's degree in mechanical engineering but I also had fewer excuses to procrastinate when it came time to study. All the same, I was glad to get it finished in September.
I have also been involved in developing Dromone's Innovation activity to ensure we are focused on solving our customers' problems. Hopefully the work we have invested this year will help Dromone continue grow into the future. Innovation is a continuous journey with exciting possibilities; and I am looking forward to seeing what projects we develop together in 2022.
Wishing you all a happy Christmas and for a safe and prosperous new year.
Lauren McCabe, Quality Engineer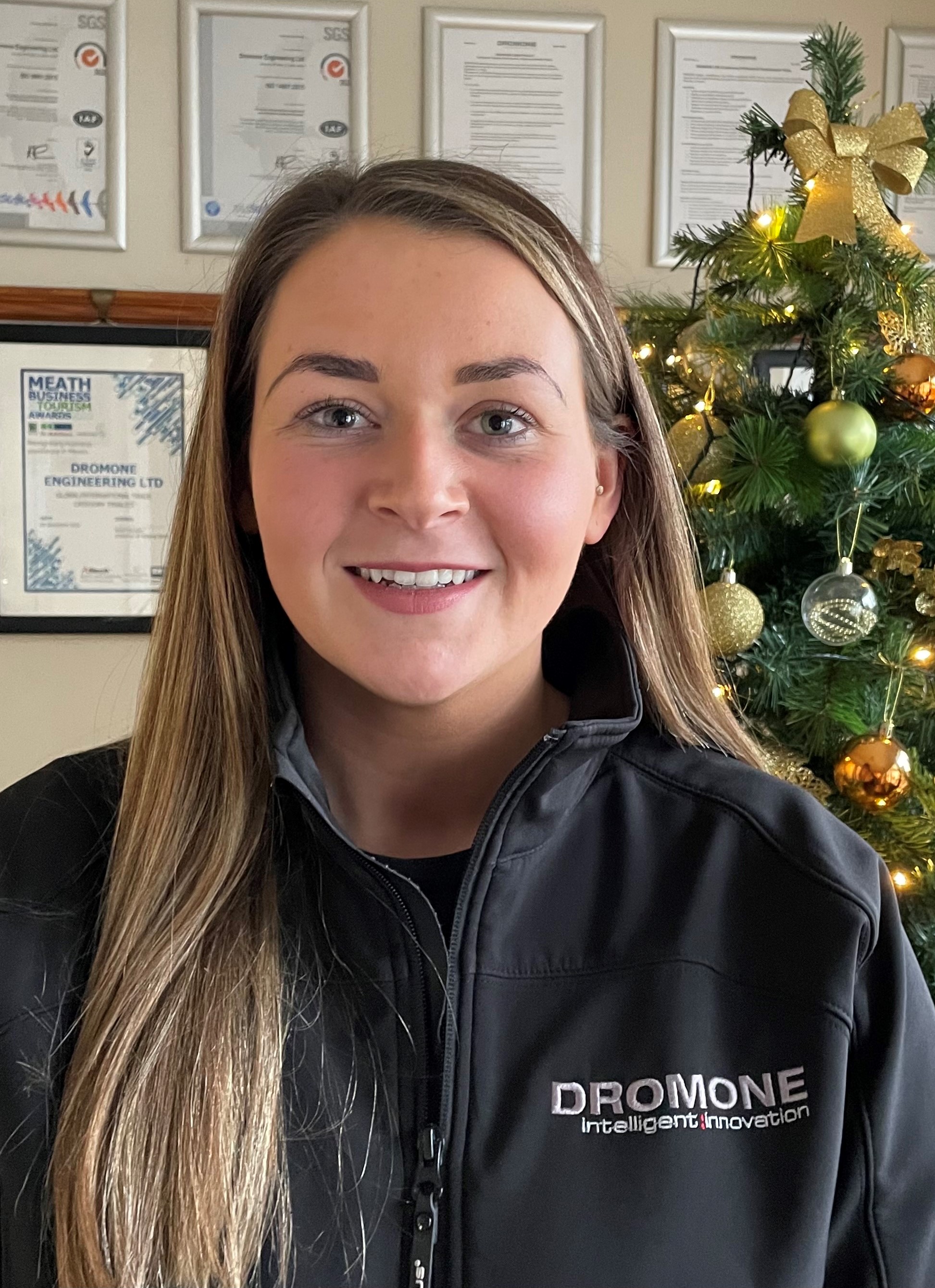 Hey guys! My name is Lauren McCabe and I'm one of three Laurens working here with DROMONE Engineering. I recently joined the quality department as a quality technician at the beginning of October after graduating from college with a degree in sustainable agriculture. The quality department is responsible for quality throughout all stages of production with a team of six implementing quality standards to ensure a high standard product is achieved. I'm very fortunate to have joined a company with a lovely friendly bunch of staff who have made my first few months very enjoyable. A big thank you to those who have given up your time to explain the process and answer my many questions, I really appreciate it.
The year 2020 & 2021 is likely to remain in our memories as COVID-19 brought the whole world to a standstill. Like many, I hope that 2022 will be a more positive year and I'm hopeful that families living abroad can reunite once again. They say pandemics fade away which I like many are feeling a yearning hope for this to be the case for 2022.
I wish DROMONE Engineering continued success in the year ahead. Wishing you all a Merry Christmas and a Happy New year and may this Christmas season bring you closer to all those that you treasure in your heart!
Sean McDonnell, Design Engineer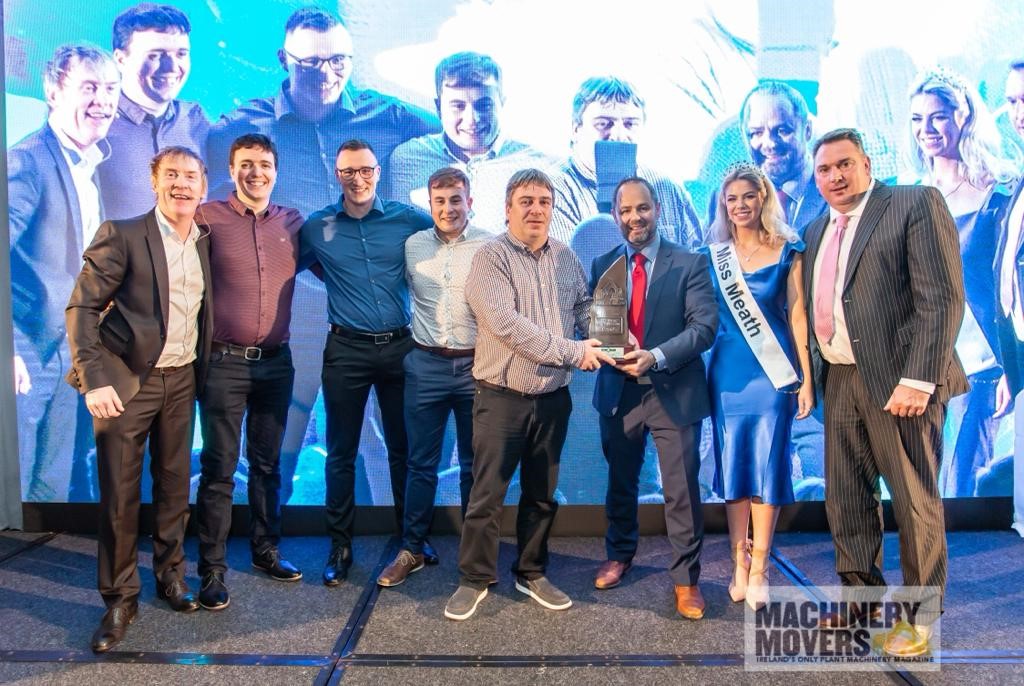 I'm Sean McDonnell – the one next to Hector (the famous Irish Radio and TV presenter standing on the left) …more on the picture later….!
I've been with Dromone for 4 years and work as a Product Design Engineer on the Construction side of the business. The majority of my role involves designing quick coupler products that meet and exceed our customer's requirements and expectations. Since March 2020, I've spent at least two-thirds of my time working from home. While new and strange at the start, it has become completely normalised. Being present onsite at certain junctures is still very necessary however. It could be certain milestones during the manufacture of a prototype, testing a particular component or a necessary face to face meeting or more accurately – mask to mask!
Being with Dromone means you're always looking at improving how we do things. This relates as much to the innovation of our physical products as to innovation in our ways of working. To that end, I've worked on a number of projects aimed at improving how we handle our design data. The endgame here is to streamline our day-to-day work. This improves our ability to respond to new product requests from our customers, deploy design improvements quickly across a product line and spend more time on innovation – which is a nice lead into the photo…
This was taken at the 2021 Machinery Movers Industry & Operator Awards held in Trim. We were the recipients of the Technology & Innovation Award for the Multi-Lock SMART quick coupler. This is a leap product within our industry and one we're very excited about. While I didn't have much of a direct hand in its development, I was glad to take one for the team! As one of the few indoor industry events in 2021, this was a definite highlight in my working year.
All the best to you and yours in 2022.